*Yelp Review of the Day 1/8/17*
Kim Chi Fries
I've come to find that I have a real bias and predisposition toward trendy environments for Asian food. Asian food is my comfort food and I've come to expect it to be a certain way - I hate to say "authentic" because there's no true baseline for authenticity. It's like saying, Hop Doddy is not an "authentic" burger place because it's nothing like a Fuddrucker's or a Smashburger. A burger can range widely depending on who and where it's from. A burger is a burger regardless of it being served up differently in a different environment.
When I'm in trendy establishments serving Asian food, I still have the expectation of it being like the comfort style Asian food that I'm use to. In other words, I still expect Fuddrucker's at Hop Doddy and you really can't do that. The quality of the meat, the mix of ingredients used, and the presentation is bound to be different. One of the dishes we ordered was the Wang Galbi and I felt myself turning my nose at it because it cut up into little strips like fajita instead of off the short rib bone that I'm use to.
I have to remind myself to strip myself of the comfort food expectation and experience the food as it's own form and rendition of the restaurant. With the new perspective in mind, RD + S is very good and enjoyable. The service is great, the sweet elder Korean lady is so friendly and stopped by many times to make sure we were having a good time. She even ran after us when we left our to-go behind then proceeded to send us off with hugs and well wishes.
Food we ordered:
Kim Chi Fries - I've been looking for a good replacement since Chilantro's left town. I'll occasionally go to Muishii Makkirito's but it's definitely sub par in comparison. Now, RD + S's Kim Chi fries is different than Chilantro's because again, no two establishments serve up food the same way, but it's very good. It's a very large portion and the best bang for your buck in the appetizer section of the ones we tried. The fries are thick and hand-cut, the gojuchang flavor is more intense than the aioli. My only complaint is the amount of meat it lacked. With more bulgogi, their Kim Chi fries could rival Chilantro's for me.
Yangnyeom Chicken
Yangnyeom Chicken - Crispy and tender. It didn't have as much batter as I expected which is a good thing in my book.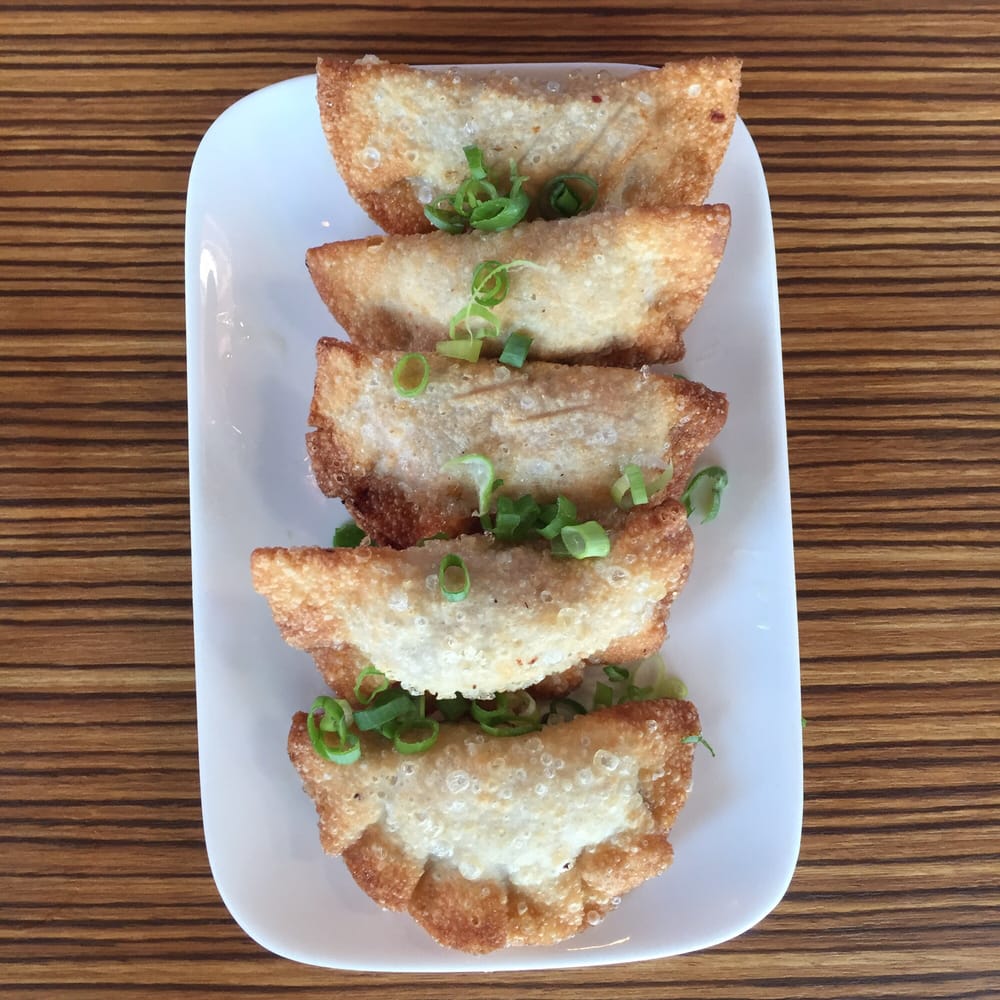 Mandu
Mandu - A little too crispy for me and I wasn't a fan of the meat mixture inside.
Kim Chi Fried Rice - Ok, this is the reason why I was pushing to come here. I had the oddest craving for Kim Chi Fried Rice after eating it for the first time at the Korean Festival at Discovery Green. RD + S's version is filled with onions and bell peppers and topped with a fried egg.
Wang Galbi
Wang Galbi - Came on a skillet cut up into little strips. It was seasoned very well and was tasty especially with the sweet caramlized bed of onions it sat on top of. They crack a raw egg into the skillet that didn't quite cook all the way for us. In retrospect, we should have flipped it over to cook on the other side. It only came with a few side dishes, the kimchi is good but the bean sprouts lacked flavor.
Business Information:
Republic Diner + Sojubang
1221 W 11th St Houston, TX 77008
Website:
RepublicDiner.com
Yelp Page
Read more reviews by Chungry Girl on Yelp